THE COSMIC POSSUM
JANE HICKS IS THE COSMIC POSSUM
Jane is a teacher, poet, and fiber artist from upper East Tennessee. (There is something east of Knoxville!) The Jesse Stuart Foundation published her book, Blood & Bone Remember, in January 2005. Blood and Bone Remember won the Poetry Book of the Year 2006 Award from the Appalachian Writers Association.  The Cosmic One is the inspiration for the name of a mythical Appalachian Trail hikers' hostel in Sharyn McCrumb's ballad novel, The Songcatcher. Baird Christopher explains it all!  Jane also served as Sharyn's NASCAR mentor for St. Dale.  (2005)

Jane is quilting a top pieced by her great-great-grandmother in the 1930's. The pattern is Trip Around the World. (photo by Ron Hicks)
PUBLICATION CREDITS
Shenandoah
Now and Then
Wind
Pine Mountain Sand and Gravel
Iron Mountain Review
(GeorgeElla Lyon issue)
(Sharyn McCrumb issue)
Red Crow Review
Sow's Ear
Appalachian Journal
A! Magazine for Arts and Antiques
Appalachian Heritage
Blue Ridge Country Magazine
Online publication:
shaking like a mountain
Southern Ledger/Southern Writer
Nantahala Review
Still
Anthologies:
Literary Lunch
Crossing Troublesome: 25 Years of the Appalachian Writers Workshop
Coal: an Anthology
We All Live Downstream: Writings about Mountaintop Removal
Motif 2: Chance
Southern Poetry Anthology: Contemporary Appalachia.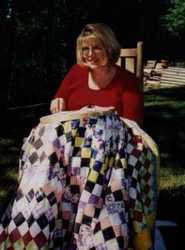 WHY THE POSSUM?
The possum is the perfect symbol of my beloved Appalachia: underappreciated, misunderstood, and the ultimate survivor in the face of all manners of predation.