Possum's Favorite Links
Some of the Cosmic Possum's favorite links.
There are many other possum aficionados out there! Two of these links lead to other noteworthy pages regarding these marvelous marsupials.
Some of the links lead to sites that highlight some of my favorite Appalachian authors.
My favorite quilt shops and teachers are also highlighted.
WRITING, QUILTING, AND POSSUMS
Click here to learn about Hindman Settlement School. The Cosmic Possum grew and learned so much here at the Appalachian Writers Workshop.
I love all the "ballad" novels. The Cosmic Possum appears in The Songcatcher. Check out St. Dale, a look at grassroots sainthood, a NASCAR pilgramage, a la Canterbury Tales. A new NASCAR novel, Once Around the Track, looks at celebrity. How appearance and reality can collide. New for 2011, The Ballad of Tom Dooley. Sharyn's exhaustive research will yield a book that surprise people who thought they knew the facts. iN 2013, Sharyn takes on the Battle of King's Mountain.
I especially like Fair and Tender Ladies and Fancy Strut. The Last Girls (Algonquin 2003) has been a regular on the NY Times best-seller list. On Agate Hill debuted in September 2006. It has "that fair and tender" feeling.
Silas' debut novel, Clay's Quilt was a hit for Algonquin books. Silas' next book, Pachment of Leaves was a national best seller. Coal Tattoo reamains a favoirte. Eli the Good (2010) has fans in the YA and adult audience.
Excellent newsletter and home of Now and Then magazine. Back in business in a different form. Check the Center for Appalachian Studies and Services for the latest.
A yearly conference that focuses upon writing from all over Appalachia.
North Carolina is only a few minutes from my home. A comprehensive site for any writer.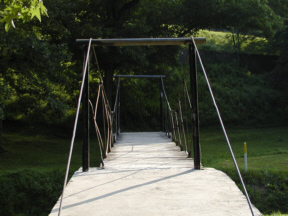 MORE GOOD STUUF!
One of my nearest quilt shops and Pfaff dealers. I love my Pfaff!
My favorite quilting teacher, Carol Britt, owns this great shop in Wytheville, Virginia. She has some fabulous batiks, as well as traditonal fabrics.
A magazine published by the Appalachian Center at Berea College. (KY)
I keep telling you, I'm not the only one who loves 'em!
Semi-Serious Artist I swear, I'm not the only one who loves 'em! Charlotte Terhune has wonderful possum artwork. Remember, part of the proceeds go to help the National Opossum Society.